The Importance of Website Phone Call Tracking
Posted on December 13, 2016 Mary Merritt
The key question for anyone marketing a business website is, how do you know if the website is effective and helping the business succeed? If you're marketing an ecommerce store, you can measure the effectiveness of your efforts easily by looking at sales data, but if you're marketing a brochure website, and most of the customers get in touch via phone, how do you know when the website helped with a sale?
Very few people can clearly define the role their website plays in causing the phone to ring - but there is an easy solution that gives you very clear metrics: phone call tracking. Phone call tracking allows you to track phone calls as a conversion, and if you are like a majority of businesses, phone calls are still a big part of how you communicate with your customers.
How It Works
Phone call tracking is a technical mystery to most people (but thankfully not to us NERDS) so first I'll define how it works. There are two common types of phone call tracking:
1. A single tracking phone number
With a single number, you buy a tracking phone number which forwards calls to a real number. A single tracking number is usually used in place of a real number on a specific static medium - this works well for things like billboards, postcard mailers, a physical brochure, etc. If you're smart about how you use a single tracking number, it can help inform you as to how well a specific campaign has performed.
2. A pool of tracking phone numbers
Because websites are more dynamic than a billboard, and there are inevitably a variety of marketing efforts that deliver visitors to each website, you'll want to rely on the 2nd option, buying a pool of tracking numbers. A pool of numbers allows you to do something that a single number can't do: assign each unique visitor a unique tracking number. Using a simple javascript snippet, all references to the real phone number on a website are easily switched with a tracking number from the pool, and that number is shown to the visitor throughout their visit. This allows a specific user's metrics (source, medium, time on site, pages visited, etc.) to be tied to their conversion if they call. This is extremely valuable because it gives you immediate insight into which of your web marketing efforts produce real phone call leads.
The pool of numbers is automatically reused over time, but with a big enough pool you can effectively track the unique source of each call triggered by a website. Because a pool of numbers allows for this 1 to 1 match, it is even possible to track down to the ad group and keyword level - would you like to know which of your AdWords keywords (or ads) is most effective at generating phone leads?
Why It's Important

Our client, who's Google Analytics "goal overview" is pictured above, offers fishing charters in the Virgin Islands. As you can see, in the 3rd quarter of 2013 they had 165 goal completions on their website, 79% of which came via phone calls (a total of 130 tracked calls). Without this phone call data, we would be unaware of a majority of the conversions being driven by the website, and we'd be blind to which traffic sources/mediums contributed most effectively to phone leads: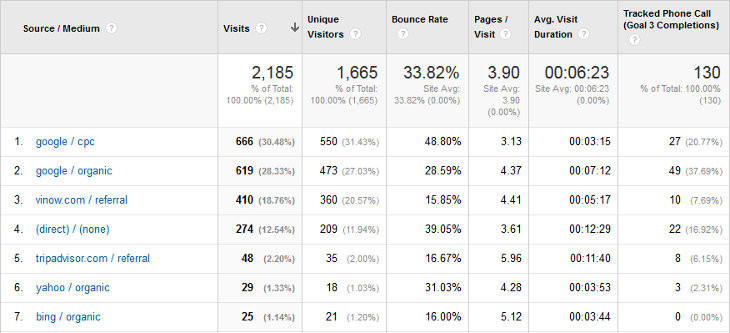 Without this data, the regular reports to our client would be much less informative (and impressive), because they wouldn't be telling the whole story.
Oftentimes when the source of a phone call is unknown, the role of the website is overlooked, or not given enough credit. Utilizing call tracking, we're able to not only give website traffic sources (campaigns, referral links, etc.) credit for direct conversions, but also attribute supporting sources with assisted conversions (via the awesomeness that isMulti-Channel Funnels in Google Analytics).
As you can see above, 30% of our client's traffic comes from AdWords - with this phone data we can easily determine exactly which ad groups, ads, and keywords are driving phone calls. We're also able to quickly see that Google Organic drives a higher percentage of phone calls than nearly any other source.
Phone call tracking also provides visibility into important metrics like phone call length & unanswered call percentages - we've used these metrics in the past to help clients streamline their customer service and phone staffing needs. If your website is driving a high volume of evening phone calls, but no one is answering the phone after 5 o'clock, you've successfully identified an important problem to tackle.
Ready to Implement?
At NerdyMind we've become strong believers in the power of phone call metrics. We've seen the importance of tracking phone calls across a wide spectrum of industries and website types - it almost always proves valuable. We'll advocate for a specific solution if you ask us, but if you dive in and do a bit of research, you should be able to uncover a number of competitively priced and robust options yourself. Here are the features we recommend looking for:
Dedicated numbers (once a pool of numbers is allocated to your account, they don't change)
Easy implementation on your website (look for a "drop-in" javascript snippet - make it as easy as possible for your webmaster or marketing team)
Easy Google Analytics integration
Email notifications
In-app metrics like call duration, unanswered call percentage
Flexible options for both local and toll free numbers
Optional recording options
Hopefully you're now inspired to find and implement a call tracking solution! If you do, let us know how it goes, and feel free to ask if you have any specific questions.