ORIBI Analytics Platform Review
Posted on March 04, 2020 Mary Merritt
Is ORIBI better than Google Analytics?
That's a big question!
Have you heard of ORIBI yet? If you're in the world of digital marketing, you probably have. It's not incredibly new, but it became new to us NERDS about 3 months ago. To be quite honest, I am in love with ORIBI so far, and I haven't even had my on-boarding call with their team yet! I will be sure to do a follow-up post after I am properly on-boarded.
Every once in a while, we get frustrated with Google Analytics because the numbers just "don't seem to add up." We've also run into a lot of mislabeled traffic issues, large margins of error between Google Analytics and marketing automation systems such as HubSpot, and more. While we will always love and utilize Google Analytics until the cows come home (via Google Tag Manager of course), we've been wondering if a more user-friendly analytics platform would ever be released.
So - what are the inherent differences between ORIBI and Google Analytics?
First off, I consider ORIBI to be much more about website usability and CRO (conversion rate optimization) than Google Analytics.
Their "Visitor Journeys" dashboard is INCREDIBLY useful, and this particular dashboard allows you to look at individual visitor journeys along with an aggregated view over any date range you desire. Normally you are using something like CrazyEgg or another heat-mapping system to see this kind of data. I suppose this would be ORIBI's answer to the "Behavior Flow" report in Google Analytics, which is incredibly hard to process insights from in this NERD's opinion. A couple of things that I love about the "Visitor Journeys" report:
Easily filter visitors from specific traffic sources to see the differences in user behavior.
The system "scores" visitors - letting us know if they were "highly active," "fairly active," and "not so active."
When you click into an individual journey, the system tells you how long the user was on each page, what actions they took, and more.
It's so much easier to gather insights from this particular visualization.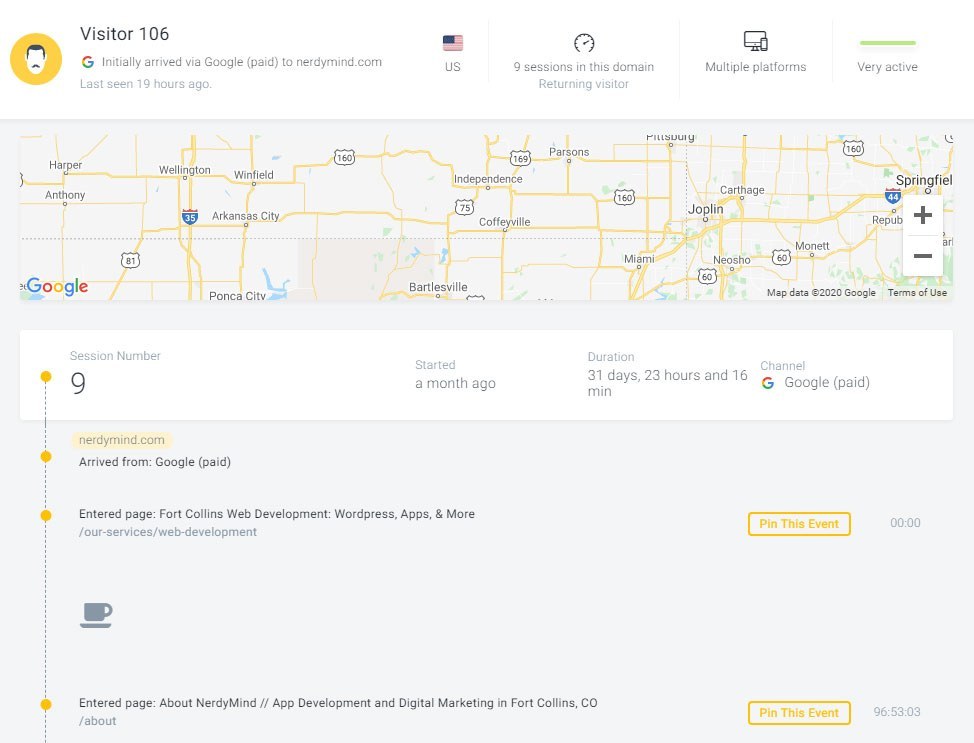 Secondly, ORIBI has extremely simple FUNNELS that you can set up.

So far, I have set up about 5 funnels, and it has been one of the easiest set-ups of my 15+ year career. After I dropped the ORIBI tag snippet onto my website via GTM, it was pretty magical. The system could see all of my buttons and links, and I could assign these actions and clicks into my funnels! Normally you have to set up event tracking and all this jive, but with ORIBI it was all too simple. And the data I am getting is TOP DRAWER. TOP DRAWER, I say.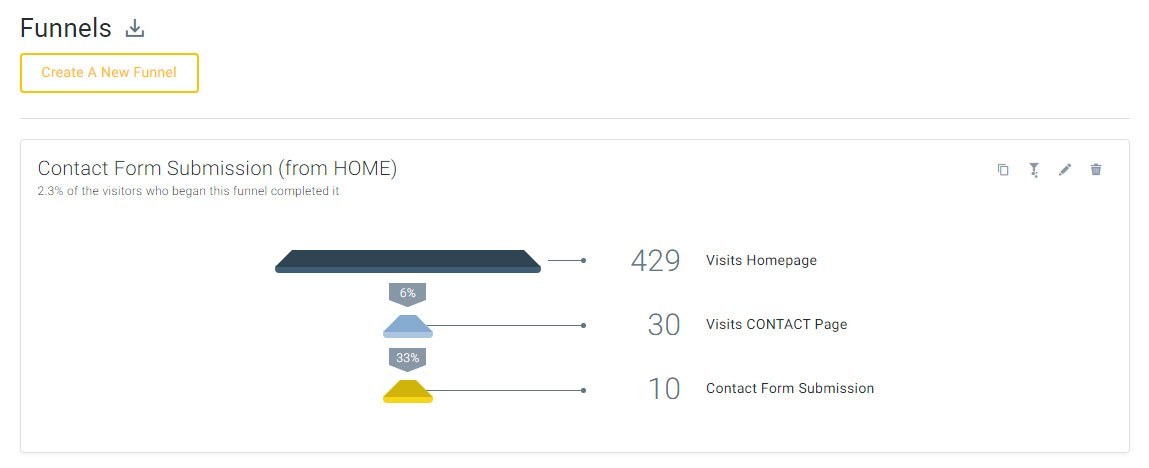 And finally, for now, THE EVENT CORRELATIONS.
This is a magical function of ORIBI that I have fallen deeply in love with (don't tell my husband). This is where true data-driven insights come into play. Sure, any digital marketing person with a few years of experience can dive into Google Analytics and pull some action items out of the data, but this system makes it even easier to see data correlations. You do have to set these up, but curiosity NEVER kills the cat in digital marketing. It makes the cat bigger, and stronger. (LOL) A great example would be my curiosity around people who land on a blog post from organic, vs. a person who lands on one of our service pages from organic. ORIBI tells me that people who visit our "Services Overview" page are 4.5x more likely to fill out our contact form. How is that NOT awesome to know?

There you have it folks! The big differences between ORIBI and Google Analytics are pretty clear to us:
The user interface is just gorgeous, and better (in my opinion)
The insights from the data are displayed much clearer
Conversion funnels are MUCH easier to set up
It is much more about user experience than Google Analytics
We are now offering ORIBI to our clients! We are VERY excited to implement this amazing analytics platform into the websites that we manage - and we know this will improve our ability to bring data-driven ideas to the table. Improving the user experience has always been the most important thing about digital marketing, and we love that ORIBI is all about it.